Video Marketing for Business Workshops and Free Presentations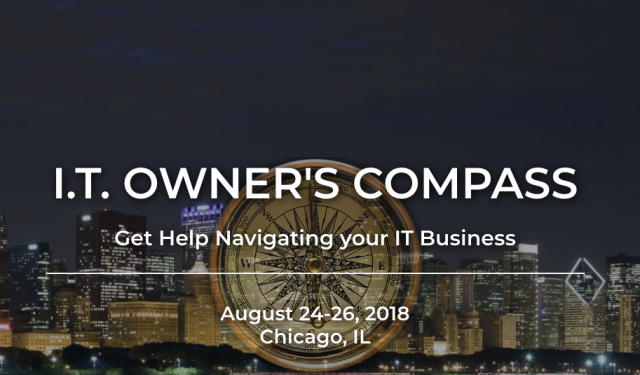 August 24 – 26, 2018
I.T. Owners CompassIT Owner's Compass is an IT business event like no other. Not only are we computer business owners ourselves, but we have listened to your feedback from past events and aim to make this the most informative, useful, and social event for IT owners. If you could wave a magic wand and create the perfect event to help you grow your business, our goal is to make IT Owner's Compass that event.Video Marketing for Small BusinessAre you struggling to stand out from your competition in a crowded marketplace and finding your existing marketing isn't working as well as you'd like? Do you want to convert more prospects into customers? If any of these concerns apply to you, video marketing might be the answer.The goal of this series is to help professionals and small business owners sort through the hype and confusion of online videos. Learn how video marketing can improve the way you do business and develop a relevant strategic plan to take advantage of the ever-changing tools available. Get in front of more prospects and convert them into customers!
New SBDC Video Marketing Series scheduled for Fall 2018

September 19, 2018 – Video Production and Content Marketing

SBDC, CLC, Vernon Hills, IL

October 17, 2018 YouTube Marketing for Business

SBDC, CLC, Vernon Hills, IL

 

November 7, 2018 Connect with Your Business Prospects Through Live Video

SBDC,  CLC, Vernon Hills, IL

—————-Get notified about my presentations, seminars & workshops

PAST PROGRAMS

May 2, 2018 Connect with Your Business Prospects Through Live Video
SBDC,  CLC, Vernon Hills, IL

April 14, 2018 Beyond the YouTube Playbook
NAB Post|Production Campus, Las Vegas

April 10, 2018 Social Media
NAB Post|Production World, Las Vegas

April 4, 2018 YouTube Marketing for Business
SBDC Continuing Education


March 7, 2018 – Video Production and Content Marketing
SBDC Continuing Education

Connect with Your Business Prospects through Live Video
November 8, 2017
SBDC Continuing Education

Looking for ways to boost engagement and connect with your audience?
This workshop will outline the opportunities of using live video to reach new clients, support current clients and improve customer engagement. Platforms covered include Facebook, Instagram, Twitter, Periscope, YouTube, Snapchat and more.
Bring a laptop or smartphone to maximize your value from this workshop.

October 27, 2017 – Mobile Video & Facebook Marketing
B4Work Networking – Mind Your Business Series – Lake Forest/Lake Bluff Chamber of Commerce

October 25, 2017 – Video Marketing – How to Close More Sales with Video
SBAC Lake County

October 18, 2017 – YouTube Marketing for Small Businesses
SBDC Continuing Education

October 17, 2017 – Video Marketing – How to Close Sales with Video
SBAC Lake County

October 6, 2017 – How to Use Live & Pre-recorded Video in Public Relations
PR Council of Lake County

September 13, 2017 – Video Production and Content Marketing
SBDC Continuing Education